SMALL CEREMONIES
Have you ever thought about celebrating your ceremony, your special day, whether it be your birthday or your wedding, at sea? In the crystal clear waters of this wonderful Gargano?
If you also find this to be a unique, exciting and above all unmissable idea, then all you have to do is contact us to get your quote in a very short time. Rich in details and above all with an indispensable price! Enjoy the sun, experience the sea and celebrate that unique day with friends and relatives, that day you will never want to forget that you will jealously keep in your memories. Here is what we at Gulet Norita can offer you.
Do not forget the possibility of associating other services on board with your ceremony. Scroll down the page and discover them all!
BOAT & BREAKFAST;
Experience the Gargano sea at 360 degrees. By boat yes, but in reality it will be like being at home. You will be able to live a unique experience aboard the Gulet Norita, you will be able to sleep on the boat and live with us an absolutely unique and exciting stay.
Our boat has some accommodations equipped with every comfort to discover all the wonders of the Gargano without giving up anything. Complete with double beds and private bathroom, the Gulet accommodations offer a remarkable experience full of incredibly beautiful views that only these lands can offer you.
So why give up all this? Sail with us and immediately live an experience not to be missed!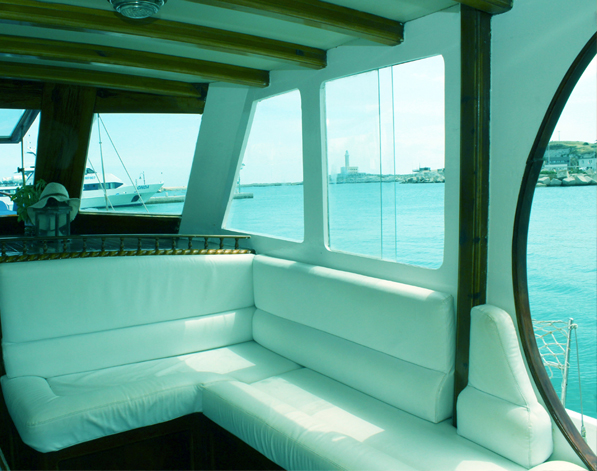 PHOTO SHOOTING;
It happens more and more often to meet the needs of photographers and professionals in the sector who are looking for new environments for their shots.
And so we, thanks to our experience in the seas of the Gargano and our love for this land, could not only host you on our boat (which you can use as a background for your photos), but also offer you absolutely unprecedented glimpses. Glimpses that will make your photos unique and exciting.
In addition, in recent months, there have been many brides who have chosen us for wedding services, but also pre-wedding services. Contact us now and find out more about this great news!
HEN/BACHELORETTE PARTIES;
Are you about to get married and are you looking for an original place to celebrate your bachelor/bachelorette party? Celebrate it with us, on a boat!
You can organize yourself as you see fit. All you have to do is contact us to organize us in the best possible way and to give you an unforgettable evening! Best wishes for your wedding, in the meantime we are waiting for you in Vieste at the Gulet Norita broth!